English coach Andy Moles has an Afghan cricket dream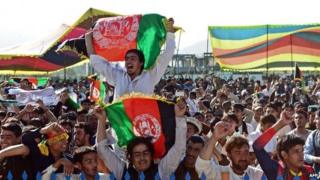 Afghanistan has hired an English head coach for their national cricket side.
Andy Moles batted for Warwickshire until 1997, and has coached at international level before in Scotland and Kenya.
He said that since they heard the news that he was coming, his friends have been asking him "Are you sure? It is a war zone."
He was assured by his new employers that the Taliban now approve of cricket and would not disrupt coaching.
Cricket was hardly played at all in Afghanistan until 2001, but was brought back from refugee camps in Pakistan, and is now hugely popular, played on every bit of waste ground.
When the national team qualified for the World Cup last October, beating Kenya, there were huge celebrations across Kabul, with celebratory gunfire going late into the night.
And more people watched the recent cricket league final on TV than voted in the country's still disputed election.
The CEO of the Afghan cricket board Noor Mohammad Murad said: "Cricket is not only a sport in Afghanistan, it's more important than that."
He said that Mr Moles had agreed some weeks ago to join the coaching team as a batting specialist, but was promoted when the head coach Kabir Khan unexpectedly resigned for family reasons.
The Afghan team already has other international coaches in its team, and Mr Murad is ambitious for success.
He said that the team is not going to the World Cup in 2015 to participate. They are going to win.
After his first training session with his new team, Mr Moles was impressed. He has six months to develop his 20-man squad, and for much of that time they will be training in Australia and New Zealand, where the World Cup is going to be played, getting used to conditions.
He said that the main problem for professional players outside the core group of test-playing nations is how much competition they have.
"In other countries, the main problem is they don't play enough cricket. The exact opposite is here."
Afghanistan currently rank 11th in the world. But they have beaten some giants in the past, including Pakistan, and are looking to get at least into the last eight at the World Cup next year.
Mr Moles is realistic. He said that on paper the team will not get into the last eight, but might progress "with a bit of belief and passion, and some good cricket, and maybe one or two sides not playing at their best, if we have a good day".
In one-day cricket, individual stars can turn the course of a game, and in fast bowler Hamid Hassan, and the captain, all rounder Muhammad Nabi, Afghanistan have players of genuine world class.
Mr Moles said that he was working on the mental, physical and technical aspects of the game for each player.
"My personal wish is that we compete every game, and if we do that, then we might just win one or two that we shouldn't perhaps on paper, and if that happens we don't know where we'll go to."