China's Pakistan visit 'postponed over ongoing protests'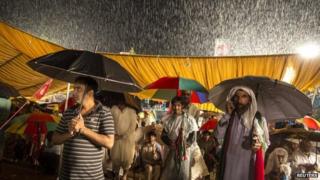 Chinese President Xi Jinping's state visit to Pakistan has been postponed, the Pakistani foreign ministry says.
The ministry said the delay was "in view of the current political situation in Pakistan" and the trip would be rescheduled "as early as possible".
Islamabad has experienced three weeks of anti-government protests, some of which have been violent.
A visit from Sri Lanka's president was also cancelled last month for similar reasons.
Pakistani Prime Minister Nawaz Sharif had been hoping for about $34bn (£21bn) of deals to be signed during Mr Xi's visit, reports said.
In a statement, Pakistan's foreign ministry described the two countries as "time-tested all-weather friends" and said talks were underway for a rescheduled visit.
There was no immediate comment from the Chinese side.
Anti-government protesters, led by opposition politician Imran Khan and Sufi clerif Tahirul Qadri, want the government to resign. Mr Sharif's government won a landslide victory in the May 2013 elections.