Deadly floods in India and Pakistan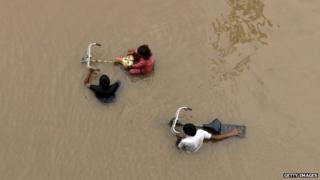 Dozens of people have been killed in flooding caused by incessant rain across large swathes of India and Pakistan.
At least 40 people were killed in Pakistan as torrential rain wreaked havoc in Pakistani-administered Kashmir and Punjab.
In Indian-administered Kashmir, 28 were reported dead, AP news agency reports.
This does not include the toll from a bus carrying 50 members of a wedding party that was swept away on Thursday.
Rescue workers have recovered the bodies of four people from the bus, which was engulfed by flood waters in the Jammu region - the bride and groom are among those feared dead.
Senior Jammu official Shant Manu told the BBC that four bodies had been recovered from a stream and "barbed wire has been put across the stream so that the bodies are not swept away".
The region is suffering from its worst flooding in two decades, which has also triggered deadly landslides.
In Pakistan, officials are getting ready for the prospect of mass evacuations of communities based in flood plains if the rain continues.
Protesters camped out on the streets of Islamabad erected makeshift tents made from plastic sheets.
Pakistan regularly witnesses severe floods during monsoon season.