Australia asylum-seeker dies after infection from septicaemia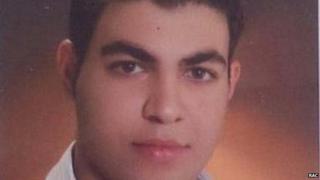 An Iranian man who had been seeking asylum in Australia, but developed septicaemia after a cut on his foot at an offshore detention centre, has died.
Activists said Hamid Khazaei, 24, cut his foot while at Australia's camp on Papua New Guinea's Manus Island.
The cut became infected and led to septicaemia, which caused a heart attack, they say.
Ian Rintoul of the Refugee Action Coalition confirmed news of Mr Khazaei's death to the BBC.
Australia's immigration minister defended the medical care he received when he was declared brain dead.
"When someone becomes ill, they receive outstanding care from the people who work as part of our mainland detention network and in the offshore processing centres," Scott Morrisson said.
He said he had asked the immigration department's chief medical officer to review the man's clinical treatment.
But Mr Rintoul has blamed conditions in the camp for Mr Khazaei's infection, saying detainees sometimes had to walk through raw sewage overflows caused by hosing out blocked toilets and by high tides.
Greens Senator Sarah Hanson-Young says there was a delay in providing adequate care to Mr Khazaei - a claim echoed by Mr Rintoul, who described the Manus Island camp as "unhygienic hell-hole that must be closed".
Mr Morrison said such claims "have not been based on any primary knowledge of this case". He accused critics of using the case "to make political points".
---
Australia and asylum
Asylum-seekers - mainly from Afghanistan, Sri Lanka, Iraq and Iran - travel to Australia's Christmas Island on rickety boats from Indonesia
The number of boats rose sharply in 2012 and the beginning of 2013, and scores of people have died making the journey
Everyone who arrives is detained. They are processed in camps in Christmas Island, Nauru and Papua New Guinea. Those found to be refugees will be resettled in PNG, not Australia
The government is believed to be towing boats back to Indonesia. It has also returned asylum seekers intercepted at sea to Sri Lanka.
Rights groups and the UN have voiced serious concerns about the policies.
---
Australia detains all those who arrive by boat to seek asylum. They are held in offshore camps in PNG, Nauru and on Christmas Island.
Both the UN and NGOs have strongly criticised conditions in these camps.
Earlier this year, an Iranian man was killed in a beating by - according to an official report - a mob of security guards and PNG local residents who had broken in to the Manus Island camp during a night of violence.
Detainees on Christmas Island, meanwhile, are currently suing the Australian government over allegedly inadequate medical care.
The government says its tough policies are aimed at ending the flow of boats, so that no more people die making the dangerous journey to Australia.