Afghan child wedding: Parents held over under-age ceremony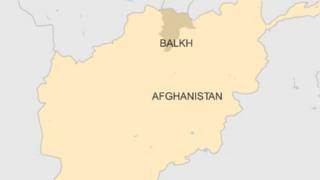 Police in northern Afghanistan have arrested the parents of two children on charges of arranging their under-age marriage, officials say.
News of the wedding ceremony between an eight-year-old girl and a 12-year-old boy in northern Balkh province came to light over the weekend.
The girl's father said he wanted dowry money from the boy's family and wanted to marry again himself.
Campaigners say child marriage is a widespread problem in Afghanistan.
Human rights groups accuse the authorities of failing to implement laws against child marriage but analysts say this case was notable because the marriage was reported to the authorities and the couple were very young.
After the ceremony the girl, Meena, went to live with the family of the boy she was married to, named as Sardar, reports say.
Her widower father told Afghanistan's Tolo TV that he had spoken with local clerics of his frustrations with life and asked them whether he should marry his daughter off.
"They told yes I can, because you need money and then you can fix your life," Tolo TV quoted him as saying.
According to government figures, 53% of Afghan women in the 25-49 age group were married by the age of 18.