Sri Lanka to rebuild bridge from River Kwai movie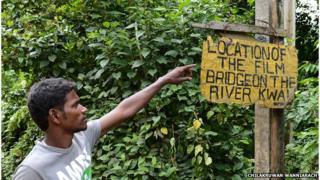 Sri Lanka is to rebuild a bridge that was destroyed in an iconic scene from the classic 1957 movie Bridge on the River Kwai.
The movie, which depicts British prisoners of war forced by the Japanese to build a bridge on the Thailand-Burma railway, was filmed in Sri Lanka.
The authorities hope to build the bridge within the next two years
It is hoped the bridge will appease locals, who fear a planned dam will harm an area popular for water sports.
The river in Sri Lanka where the film was set is called the Kelani, which has become a tourist attraction for its white-water rapids.
However, when Sri Lanka's Electricity Board announced it was to dam the river as part of an $82m hydroelectric project, locals who have come to depend on the revenue that tourists bring raised concerns that they would lose their income.
The scene in which the replica bridge is blown up has become one of the most famous in cinematic history.
The film, directed by David Lean, received widespread critical acclaim and won seven Academy Awards, including Best Picture, and it had a cast including renowned actors Alec Guinness, William Holden and Jack Hawkins.
The actual bridge on the River Kwai is located in Thailand, and stretches over a part of the Mae Klong river, which was renamed Khwae Yai (Thai for big tributary).
The railway route, which ran through Burma and Thailand, had been planned by the British.
The region was seized by the Japanese in 1942, and they then set about making preparations to build the railway.
The film was based on a French novel by Pierre Boulle.