North Korea retracts cheerleader offer for South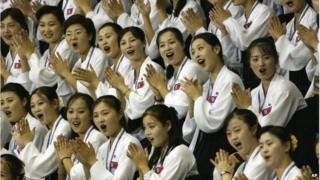 North Korea has retracted a decision to send cheerleaders to South Korea for the Asian Games, which would have been the first such trip in almost 10 years.
Pyongyang had said a group would accompany athletes taking part in the Games in September in the South Korean city of Incheon.
But it changed its mind because the South had appeared to be "displeased".
It accused the South of quibbling over details, and of viewing the group as a political propaganda tool.
"The South side took issue with the scale of the cheerleading squad and the size of the flag of the DPRK [North Korea]," a statement carried by KCNA news agency said.
The statement said the South "finally raised even the issue of expenses which the North side had never mentioned, bringing the talks to a rupture".
South Korea said it was disappointed at the "unilateral" move and said it hoped Pyongyang would change its mind.
The squad of dozens of young women performing synchronised moves traditionally attracts attention in the South.
Cheerleaders last came in 2005 for the Asian Athletics Championships, also held in Incheon.
That contingent was made up of 101 cheerleaders, including - reports say - Ri Sol-ju who went on to marry North Korea's leader Kim Jong-un.
Tension remains high between the two Koreas, which remain technically at war after the 1950-53 Korean War ended in an armistice rather than a peace treaty.
Pyongyang is widely believed to be pursuing nuclear weapons' development and has carried out three nuclear tests, most recently in 2013.
It traditionally alternates threats and olive branches towards its southern neighbour.