Two arrested in Bali after US woman's body found in suitcase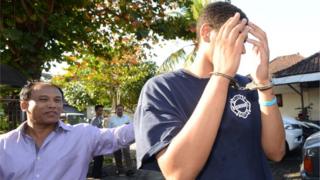 Police on the Indonesian island of Bali have arrested two people after the body of an American woman was found in a suitcase.
The woman's daughter, 19, and her boyfriend, 21, were detained by police on the resort island on Wednesday.
The victim, identified as 62-year-old Sheila von Wiese-Mack, was found inside a suitcase in the boot of a taxi at a luxury hotel.
Indonesian officials said she had several wounds on her face and head.
"There were signs of a struggle by the victim as there were bruises on her arms and some fingers were broken," Reuters news agency quoted Ida Bagus Putu Alit, a forensic officer, as saying.
Djoko Hari Utomo, the police chief in Bali's capital, Denpasar, told journalists that the detained couple hired the taxi and put the suitcase in the boot.
They told the taxi driver they were going back to check out of the hotel, he said, but did not return.
The taxi driver became suspicious about the suitcase, which had blood on it, and asked police to open it, reports said.
After the body was discovered, police found the couple staying at another hotel in Bali, the police chief said.
An autopsy is being carried out on Ms von Wiese-Mack's body, police said.
In a statement, the US embassy in Jakarta said it was "aware of the death of an American citizen... and we understand that two individuals have been arrested in connection with the case".
The mother and daughter are reported to live in Chicago.