Pakistan: Imran Khan, Tahirul Qadri address marchers going to Islamabad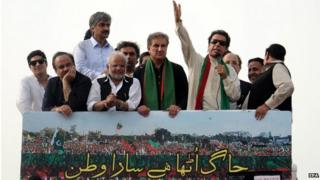 Pakistan protest leaders Imran Khan and Tahirul Qadri have addressed crowds gathered in key towns on the way to the capital, Islamabad.
The two convoys are making slow progress having left the eastern city of Lahore on Thursday.
Thousands of people are on the march, which is being seen as the strongest challenge to Prime Minister Nawaz Sharif since he took office last year.
The government says the protesters are trying to derail democracy.
Pakistan's interior minister has warned protesters not to enter the so-called Red Zone in Islamabad where foreign embassies and key government buildings are located.
Access to many main roads in Islamabad has been sealed off by riot police and shipping containers.
Mr Khan and Mr Qadri have agreed to assemble at Islamabad's Zero Point, a sprawling avenue at the east end of the capital, away from residential and commercial centres and the red zone.
Mr Khan addressed crowds of supporters at a rally in the town of Gujranwala on the way to Islamabad, where he paid tribute to the energy of the demonstrators.
"I am going to Islamabad and I will ensure that all of us are free," he is quoted as saying by Dawn newspaper.
In the city of Kharian, in Punjab district, Mr Qadri also spoke to assembled supporters, saying he had received reports of threats to his march.
The protesters want PM Nawaz Sharif to resign and have promised a change of government.
Both camps are angry about the sinking economy, growing militancy, and failure to deliver core services such as a steady electricity supply.
Mr Khan has also accused Mr Sharif of failing to probe fraud in last year's polls.
---
Analysis, Shahzeb Jillani, BBC News, Islamabad
Imran Khan's slow-moving convoy of motorbikes, cars, buses and trucks left the eastern city of Lahore a little after midday on Thursday. Some 20 hours later, this morning, it reached the city of Gujranwala, a distance that's usually an hour's drive from Lahore.
Separately, another politician, Dr Tahirul Qadri, is leading his group of anti-govt protesters towards the capital, Islamabad. Overnight, thousands of demonstrators spent their first night camped out on the streets of Islamabad.
Pakistan's capital is bracing for yet another political confrontation, which could drag on for days.
---
But in a country with a history of military coups, there is a fear of violence and of a possible army reaction, correspondents say.
Last week at least six people were killed in Punjab province in clashes between police and supporters of Mr Qadri.
Mr Qadri, who until recently was based in Canada, returned to Pakistan in June and is one of its most prominent political and religious figures.
He leads the Pakistan Awami Tehreek (PAT) party and has condemned Mr Sharif as corrupt.
Mr Qadri has called for a military-backed government to take over from Mr Sharif, but has denied being supported by the army.