Australia-US talks: 'Action needed' on foreign fighters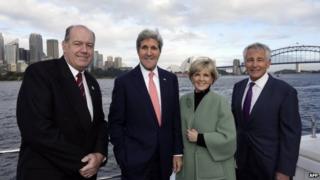 The US and Australia have highlighted the threat posed by foreign jihadi fighters returning from Syria and Iraq, amid horror in Australia over a graphic image involving a young boy.
America's top diplomat, John Kerry, said the issue should be discussed at the UN so best practice for handling returnees could be established.
Mr Kerry's comments came at an annual US-Australia dialogue in Sydney.
He also described the image in question as "stomach churning" and "grotesque".
The photo shows a young boy, believed to be the son of an Australian man convicted of terrorism offences, using both hands to hold up the severed head of a Syrian.
The image was posted on the Twitter account of Khaled Sharrouf, an Australian who was jailed for planning domestic attacks but who is now known to be in Syria.
The Australian newspaper said the image, which included the caption "That's my boy", was taken in the northern Syrian city of Raqa.
The grandfather of the little boy, Peter Nettleton, has appealed to the Australian government to bring him home.
"I'm scared for the children,'' he told Australia's Daily Telegraph. "What life are they going to have now?''
"Can't the government do something to pull these kids away from that man?''
Mr Nettleton is the father of Khaled Sharrouf's wife, Tara. She cut off contact with him when she married Sharrouf, he said.
He told the daily he believed Sharrouf had taken his family to Malaysia to stay while he went and fought in Syria.
About 150 Australians are believed to be fighting with militants in the Middle East.
Last week, Australia announced laws that would restrict its citizens from travelling to certain countries, in a bid to prevent nationals joining extremist groups overseas.
There are also concerns about radicalised individuals returning to plot attacks on home soil.
Speaking at the Australia-US Ministerial Consultations, or Ausmin, meeting, John Kerry said the US and Australia would work "to assemble a compendium of the best practices in the world together regarding those foreign fighters".
"We intend to join together in order to bring this to the United Nations meeting this month and put it on the agenda in a way that will elicit support from the source countries as well as those countries of concern," he said.
Earlier in the day the two sides signed a deal on the rotating US military presence in Darwin, which is set to rise from the current 1,150 US Marines to 2,500 by 2017.
Australia first agreed to host a rotating contingent of US Marines in 2011, as the US announced its pivot to Asia.