Zhou Yongkang: Erasing the memories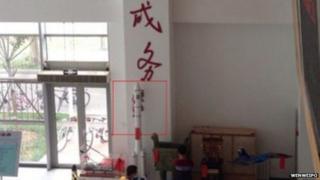 The Chinese say that when a wall is falling, millions will push it.
Zhou Yongkang, the most senior party leader netted so far in China's recent clampdown on corruption, probably knows how it feels better than most now.
The 72-year-old is a former security chief who once headed China's Ministry of Public Security. He was also a member of the top decision-making body, the Politburo Standing Committee.
In July, it was announced that Mr Zhou was being investigated for "serious disciplinary violations".
State media described him as the "fallen tiger" and "no longer a cadre". Now there are reports that Mr Zhou's once-proud alma mater, the China University of Petroleum, has been trying to erase or minimise evidence of his existence on campus.
'Vanity fair'
A picture circulating on China's Twitter, Weibo, shows a model of a rocket which has now been placed right in front of Mr Zhou's signature on an inscription of the university's motto.
Also, according to China's state-run Global Times, reports and pictures from when Mr Zhou visited the campus to mark its 60th anniversary have been erased from the school's website. Now, hardly any trace of Zhou Yongkang, once described as an "outstanding alumunus", can be found.
Hundreds of Weibo users have pointed out that universities in China should not brag about government leaders' influence or patronage, or try to erase it when it has failed them. It only shows the atmosphere of our society today, many said, to frown on the fallen and fatten the powerful.
"Universities have become a vanity fair," one Weibo user lamented. "Where did independence and freedom go?"
Another said: "Good job steering by the wind. Universities are now so bureaucratic and corrupt that they bend their knees to flatter."
One comment got many thumbs-up from other Weibo users: "Perhaps the Petroleum University should repave the road Zhou walked on, demolish the meeting hall he was in, smash the toilet he used and cut off the headmaster's hand that he shook."