Typhoon Halong triggers evacuation orders in Japan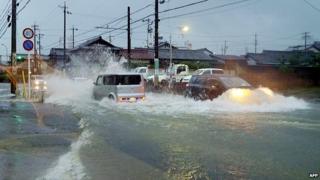 More than one million people have been told to evacuate their homes as a powerful typhoon hit south-west Japan.
Typhoon Halong made landfall near Aki, Kochi prefecture, at around 06:00 (21:00 GMT Saturday), the Japan Meteorological Agency said.
Torrential rain in Mie prefecture, west of Tokyo, was already "unprecedented" and could trigger landslides or major floods, the agency warned.
One person has been killed and more than 30 injured, broadcaster NHK said.
Winds of up to 180km/h (110mph) are moving slowly north-east.
TV footage showed high waves hitting breakwaters and muddy torrents roaring down a swollen river.
One man was washed away in a raging river in Gifu prefecture and died later in hospital, NHK reported, while a surfer was missing off the coast of Wakayama prefecture.
Local authorities, mainly in western Japan, issued evacuation advisories to nearly 1.5 million people in total, NHK added.
Airlines grounded about 470 flights on Saturday and at least 143 more flights are due to be cancelled on Sunday.
Some bullet trains also suspended services.
The disruption has affected thousands of travellers aiming to get away for Japan's annual "Obon" summer holiday.
About 40cm (16 inches) of rain and heavy winds are forecast for eastern Japan, including the Tokyo metropolitan area.
Halong comes a month after Typhoon Neoguri killed several people and left a trail of destruction in southern Japan.
Last weekend, a man drowned in a swollen river as heavy rain from Typhoon Nakri lashed the country.