Afghan rivals Ashraf Ghani and Abdullah Abdullah differ on deal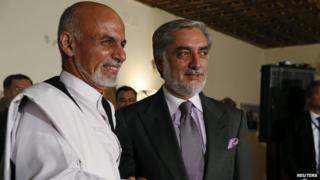 Afghanistan's two presidential candidates are now co-operating to build a government of national unity.
But there are some differences in how they see the agreement signed in front of the US Secretary of State John Kerry on Friday.
The candidate who won the disputed second round of voting, Ashraf Ghani, told the BBC that this was not a power-sharing agreement.
"It is not power-sharing in the sense that ministries are going to be allocated" by one or the other leader, he said.
He added that the main reason that Mr Kerry had to return was to get clarity on this.
Mr Ghani said "misperceptions" had grown that, with the creation of the role of chief executive for the defeated candidate, Afghanistan was weakening the power of the president, and moving towards a parliamentary system.
But the other candidate, Abdullah Abdullah, has said "there is an element of power-sharing" in the deal.
He told the BBC that "politics is politics", and that both leaders would want their nominees to fill key posts. But he said that they would not sacrifice principles of advancement based on merit, the rule of law, and honesty.
'Win-win situation'
As their teams meet in the coming weeks to flesh out the details of the deal, both candidates are committed to making it work.
Mr Abdullah called it a "win-win situation", saying that the alternative was the defeated candidate pulling things apart in the coming years, which he described as a "lose-lose" situation.
Mr Ghani has taken a far more technocratic approach, which has been criticised by some in the Abdullah team, who have accused him of delaying a deal in the hope that his position improves as the audit of votes goes on.
Parallel to the political negotiations, the UN is overseeing a full audit of the ballots.
Mr Ghani has denied that he has been delaying resolution of the political questions.
He stressed that, in framing the deal, it was essential they moved "from the politics of patronage to the politics of principle".
Mr Ghani added that he did not owe any debts to any "merchants or politicians", and wanted a reform programme to include a new way of appointing officials.
How rival candidates compare
Ashraf Ghani
Abdullah Abdullah
Technocrat and former World Bank official. Open to talks with Taliban
Former anti-Soviet resistance member. Wary of Taliban talks
Leading in Pashtun-dominated southern provinces
Ahead in mainly Tajik northern areas
Backed by Rashid Dostum, an Uzbek ex-warlord accused of human rights abuses
Supported by wealthy Balkh governor Atta Mohammad, a bitter Dostum rival
Has support of Qayyum Karzai, brother of President Karzai
Also has backing of Mohamed Mohaqiq, powerful leader of ethnic Hazaras
Ahmed Zia Masood, whose brother was a famous resistance hero, helped balance ticket
Gul Agha Sherzai, an influential Pashtun, helped bring ethnic balance to ticket
The new deal is designed to complete transition to a new president by the end of August, although at the present pace, the work of assessing fraud in the total audit of votes will take far longer than that.
Both candidates are impatient to get on with the job of governing, recognising that international deadlines cannot be moved.
Both will now attend the crucial NATO summit on the future of Afghanistan in Wales at the beginning of next month, and by then it may be clear who is president.
They know that transition will be tense. The stakes are high. A peaceful transition of power would be unprecedented in modern times in Afghanistan.
The nation stared over the precipice of civil war in early July when the first round result was declared. Mr Abdullah said that while there were protests and tension, there was "no sign of violence".