Afghan attack: General Harold Greene was 'true hero'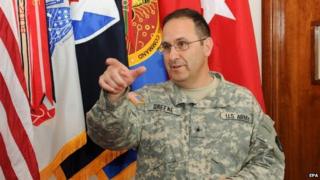 The US military has paid tribute to Maj Gen Harold Greene, killed by an Afghan soldier in an insider attack on Tuesday, as a "true hero".
Gen Greene, the most senior US soldier killed in action overseas since Vietnam, was shot dead as he visited a UK-run military training facility.
Afghan President Hamid Karzai said the shooting was a "cowardly attack".
Officials said the Afghan soldier who opened fire had subsequently been shot dead.
At least 15 other soldiers were injured. Two Britons, several Americans and generals from Germany and Afghanistan were among the wounded.
Insider attacks have become one of the defining features of the later phase of the conflict in Afghanistan.
They have hampered efforts to train the country's 350,000-strong security force as they prepare to take on the Taliban once most US and Nato forces depart.
US Army spokesman Juanita Chang described Gen Greene as a "true hero".
She said he was working "to better advance the Afghans and the cause in Afghanistan".
"He really believed what he was doing over there," she said.
---
US media reaction
US newspapers have been speaking to Gen Greene's friends and colleagues, who painted a picture of a cerebral general who was more interested in software than military hardware.
The LA Times reported that Gen Greene would be remembered for being a "brilliant logistician with a quick sense of humour", while the New York Times said he was a "gadget guru" whose missions usually did not involve actual fighting. Both said that he used iPads and videogames to help train a new generation of American soldiers.
The Washington Post concentrated on his role as deputy commander in training Afghan security forces, calling him a "key figure" in this process.
---
Correspondents say that the attack raises new doubts about Nato's ability to train Afghan forces as Western countries gradually withdraw.
From the end of this year, just under 10,000 American troops will remain, with all withdrawing by the end of 2016.
The Pentagon described insider attacks as a "pernicious threat".
It described it as an isolated attack and insisted that there had been no breakdown of trust between coalition soldiers and their Afghan counterparts.
Afghan 'Sandhurst'
The Afghan soldier who opened fire was recruited three years ago, Afghan defence ministry sources told the BBC.
He carried out the shootings from a guard post as a large group of senior Afghan and international troops gathered.
By the time he had emptied the magazine of his US-issue M16 rifle, more than a dozen people had been shot, our correspondent says.
The Afghan commander of the British-led officers' academy, Gen Gulam Sakhi, was among those wounded.