Afghan notebook: Ibsen in Kabul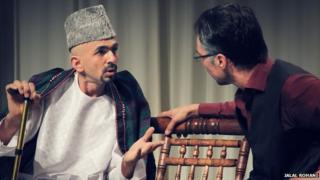 On a sweltering hot afternoon people are jam-packed into a small auditorium in the arts department at Kabul University.
They've come to watch a new production of An Enemy of the People, Norwegian playwright Henrik Ibsen's story of a man struggling with the contradictions of modern society.
In the hands of young director Haroon Noori this 19th Century classic takes on new resonance for an Afghan audience.
The actors are in modern dress, including one who's clearly based on President Karzai with his trademark robe and hat.
The play weaves in issues affecting city life in the new Afghanistan - widespread corruption, illegal construction and poorly-planned drainage.
For 90 minutes the audience is spell-bound forgetting the heat, life outside and the ever-present fear of insurgent attack.
"We pulled this play together in 25 days including time for rehearsals, costume, stage lighting and set design," says Mr Noori, who has a degree in theatre from California East Bay University, and now teaches directing at Kabul University.
The actors are drama students. Putting on the play has been their final year project before they graduate in the autumn.
"It's been a great chance for them to get some first-hand experience," says Azim Hussain Zada, who heads the theatre department.
The performance was sponsored by the Norwegian embassy in Kabul.
The Norwegians, together with the French and German cultural institutes, have led the struggle to revive theatre in Afghanistan since the fall of the Taliban in 2001.
Distinguished history
It's an art form with a surprisingly long history. Kabul's first-ever stage play modelled on modern Western theatre was performed to a select audience which included members of the Afghan royal family in 1923.
Mother Homeland was an epic by Mahmood Tarzi, a pioneering journalist who also happened to be King Amanullah's father-in-law.
Members of the cabinet and the diplomatic corps also played a role, translating popular plays from French, German, Italian and English.
Short plays were performed at private events, but it took two decades for the theatre to break free from court circles.
In 1943 Inheritance by Rashid Lateefi, a newspaper columnist, was one of the first plays to be performed to a wider audience.
Afghanistan's best loved actor Qayum Baysed, made his acting debut on the opening night.
He is described by his many fans as Afghanistan's answer to British actor Sir Ian McKellen.
Mr Beysed captivated audiences throughout his six-decade-long career and inspired a new generation of Afghan actors.
In his last interview with the BBC, before his death last December, a fragile Mr Beysed recalled that in the early days of Afghan theatre all the actors were men.
"But once theatre was perceived as an art rather than cheap entertainment, women began to take part in the 1950s," he said.
The emergence of theatre mirrored Afghanistan's development as a modern state.
Roads were built, new technology imported, and people went to the theatre to see locally written plays performed alongside works by Shakespeare, Chekhov and Brecht.
In 1978 Afghanistan's first television channel was launched and TV theatre became hugely popular - despite the censorship imposed by the then Soviet-backed government.
After the Soviet withdrawal and the onset of a new bitter round of civil war, Kabul's theatres closed down and by 1992 the performing arts had completely disappeared.
Travelling theatre
It was only after the fall of the Taleban that theatre began to be revived.
Development organisations were quick to see its potential as a way to promote messages about public health, women's rights and democracy.
Travelling theatre projects have brought educational drama to audiences all over the country and have also given new opportunities to out of work actors.
"It helps theatre staff to get back into acting," says Rahmatullah Khostay, a veteran actor from Khost in south-eastern Afghanistan. "Otherwise they are all selling potatoes or trading cars for a living."
But Afghan theatre still has a long way to go.
The Ibsen play at the university in Kabul was performed to a select audience of students, artists and foreign diplomats, and it wouldn't have happened without foreign backing.
Afghanistan's National Theatre is the only state-funded company in the country.
It operates in temporary premises after its original building was destroyed during the civil war.
Lack of money and continuing instability in Kabul mean it only stages two performances a year.
"It's always a struggle to get government funding for festivals and new plays," says Ghafoor Sharyati, who heads the company. "We don't know if the Ministry of Culture and Information has even allocated a budget for theatre."
But despite the difficulties, the company has taken part in theatre festivals in neighbouring countries and over the past decade it has picked up a number of awards.
And while the actors might not take to the stage very often back home in Kabul, when they do the National Theatre's rare one-night performances always play to sell-out audiences.
---
BBC Afghan notebook
This is where our reporters share stories beyond the daily conflict and politics of a country going through the most important election in its recent history as foreign troops withdraw.
We'll focus on the surprising while treating the familiar from fresh angles, combined with a street-level view of a country in transition.
Most of the posts will be written, photographed or filmed by our journalists across Afghanistan.
You can use #BBCAfghanNotebook to follow our reports via Twitter.
---