Afghan elections: Audit of disputed run-off halted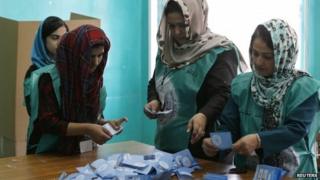 Afghanistan's election commission has suspended an audit of votes from June's hotly-disputed presidential run-off.
The Independent Election Commission (IEC) said this was due to a "misunderstanding",without elaborating.
Both candidates Ashraf Ghani and Abdullah Abdullah accuse each other of electoral fraud.
The audit process of more than eight million votes - brokered by US Secretary of State John Kerry - has been marred by walkouts by both sides.
Mr Ghani won the 14 June run-off, according to preliminary results. Mr Abdullah came top in the first round in April, but failed to secure 50% of the vote to avoid the run-off.
Analysts warn that any further delays could further destabilise the conflict-torn country.
Unity threat
The IEC announced its decision just four days after the process began. It did not provide further details.
How rival candidates compare
Ashraf Ghani
Abdullah Abdullah
Technocrat and former World Bank official. Open to talks with Taliban
Former anti-Soviet resistance member. Wary of Taliban talks
Leading in Pashtun-dominated southern provinces
Ahead in mainly Tajik northern areas
Backed by Rashid Dostum, an Uzbek ex-warlord accused of human rights abuses
Supported by wealthy Balkh governor Atta Mohammad, a bitter Dostum rival
Has support of Qayyum Karzai, brother of President Karzai
Also has backing of Mohamed Mohaqiq, powerful leader of ethnic Hazaras
Ahmed Zia Masood, whose brother was a famous resistance hero, helped balance ticket
Gul Agha Sherzai, an influential Pashtun, helped bring ethnic balance to ticket
However, the BBC has learnt that party agents from the Ghani camp staged a brief walkout on Saturday after a dispute over how the ballots were being scrutinised, the BBC's Karen Allen in Kabul reports.
The two sides still appear at odds over the ground rules for the audit, and most of the 23,000 ballot boxes are still to be checked, our correspondent says.
US special representative James Dobbins is now back in Afghanistan for talks with both candidates try to "move the process forward" - paving the way for a government of national unity, but only once an audit is complete.
Meanwhile, Nader Nadery, who heads the main Afghan election observer team, warned that the auditing process "could be much slower than anticipated" if disruptions continued.
He added that further stand-offs "would do little for national unity".
Taliban militants have been testing the capacity of the Afghan army in recent weeks, with a major offensive in the southern province of Helmand.
The withdrawal of foreign troops by the end of this year will be the litmus test of whether more than a decade of training and investment in building up Afghanistan's own security forces has paid off, correspondents say.
President Barack Obama has said the US remained committed to Afghanistan provided the incoming president signed a security agreement.
Afghanistan's current President Hamid Karzai, who came to office after the US-led overthrow of the Taliban, is stepping down after more than 10 years.