Two dead as Indonesia-bound boat sinks off Malaysia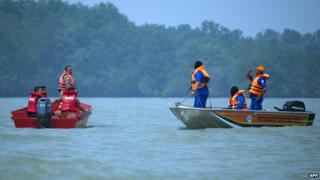 A boat reportedly carrying illegal immigrants and heading for Indonesia has capsized off the south-west coast of Malaysia.
Two have died and at least 18 are still missing, according to news agencies.
The cause of Tuesday's accident remains unclear bur nearly 60 people were rescued in the early hours of Tuesday morning.
Two boats carrying Indonesian migrants capsized in waters off Malaysia last month, killing at least 10 people.
Local media report that the boat collided with other vessels, including a patrol boat, in waters off the southern state of Johor.
State news agency Bernama quoted Johor's assistant director of fire and rescue operations Mohd Rizal Buang as saying the boat had collided with a Malaysia Maritime Enforcement Agency (MMEA) vessel that was on the lookout for smuggling activities.
But an unnamed MMEA official denied this account when speaking to the AFP news agency, and said the boatman had panicked upon seeing the patrol vessel and lost control. The boatman is still missing.
Thousands of Indonesians work illegally in plantations and other industries in Malaysia.
They often risk dangerous sea journeys to return home, particularly during the Muslim holy month of Ramadan so that they can observe it with their families.
Last month saw two boat accidents involving Indonesian migrants returning home. At least 10 people were killed and dozens are still missing.