Afghanistan election: An anxious wait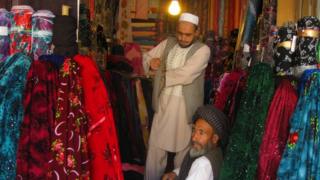 The ongoing crisis over Afghanistan's presidential election has left many ordinary people feeling uncertain about their future.
As the two rival candidates trade accusations about fraud, everyday life seems to be on hold, with small businesses in particular feeling the effects.
"Frustrated, furious and helpless": this is how Ghulam Sakhi, a shopkeeper in the western province of Herat, sums up his feelings.
"The market is empty," he says, standing amid bales of multi-coloured fabric in his shop.
"We used to have lots of customers coming in from the countryside to go shopping but they're just not coming any more".
Many Afghans across the country feel like Ghulam Sakhi. The political crisis has had an inevitable impact on all kinds of businesses.
"For the past three months I haven't had a single customer," says Khoja Ahmad, who runs a property business in Herat, selling and renting out houses and land. "Eventually, I will be forced to close my business and do something else."
Traders in Kabul tell a similar story.
"Everywhere you go people are talking about the elections," says Ahmad Shah, who has a mobile phone shop in the city.
"Everyone is asking what happened and what will happen next. It's really affecting our lives and work."
Given what's at stake, it's probably not surprising that Afghans are feeling so on edge.
The election of President Hamid Karzai's successor comes as international combat troops withdraw from the country after more than a decade.
In this kind of atmosphere most people's thoughts are probably not on shopping.
And what's compounding the situation is that the election stand-off has coincided with the beginning of Ramadan, a time when prices tend to go up.
Jamil Ahmad runs a sweet shop in southern Kandahar province, the former headquarters of the Taliban.
His shop is piled high with big platters of sweets that Afghans traditionally buy as treats during Ramadan. It's usually his busiest time of the year.
"I always have lots of customers during Ramadan," he says. "But this year I've only got half the number that usually come."
But Ramadan is also a time of hope and celebration in Afghanistan.
And during this month more than ever, people are trying to hope for the best.
Many Afghans say there is still a chance that their politicians will be able to overcome their differences.
As one street vendor puts it, "God will provide for us whatever our destiny".
Mohammad Qazizada, Mamoon Durrani and Kawoon Khamoosh contributed to this article.
---
BBC Afghan notebook
This is where our reporters share stories beyond the daily conflict and politics of a country going through the most important election in its recent history as foreign troops withdraw.
We'll focus on the surprising while treating the familiar from fresh angles, combined with a street-level view of a country in transition.
Most of the posts will be written, photographed or filmed by our journalists across Afghanistan.
You can use #BBCAfghanNotebook to follow our reports via Twitter.
---