Australia asylum: Minister in Sri Lanka amid row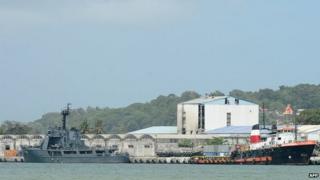 Australia's immigration minister is visiting Sri Lanka amid an ongoing row over asylum seekers.
On Monday Australia confirmed it had passed 41 asylum seekers intercepted at sea to the Sri Lankan navy.
Rights groups and the UN have expressed deep concern at the move, saying screening of asylum seekers at sea could deny them basic protection.
The returned group, meanwhile, say they were treated poorly - claims Australia rejects.
A second group of 153 people also intercepted at sea are the subject of ongoing court proceedings in Australia. Some of them - it is not clear how many - are reported to be Tamils.
Rights groups say Tamils can still face intimidation and violence in Sri Lanka, five years after the end of the civil war, which pitted the majority Sinhalese Sri Lankan military against Tamil separatists.
'Deeply disturbed'
Immigration Minister Scott Morrison is in Sri Lanka to mark a gift of two coastal patrol boats. He and President Mahinda Rajapakse will formally commission the boats during the visit.
Australia is seeking closer co-operation with Sri Lanka on people-smuggling, as it takes an increasingly tough stance on the issue.
The adults among the group of 41 people returned to Sri Lanka, meanwhile, have been charged with leaving the country illegally. Most of them have now been released on bail.
They told the BBC their boat was intercepted near the Cocos Islands in the eastern Indian Ocean. They were then screened, reportedly via video-conference.
Australian Customs officials "treated us like dogs", one man said. "We were kept like prisoners. They didn't give us enough food or water." Another said he was sworn at and insulted by the Customs staff.
Mr Morrison reacted angrily to the claims, telling journalists in Sri Lanka: "I find those allegations offensive and reject them absolutely."
---
Australia and asylum
Asylum seekers - mainly from Afghanistan, Sri Lanka, Iraq and Iran - travel to Australia's Christmas Island on rickety boats from Indonesia
The number of boats rose sharply in 2012 and the beginning of 2013, and scores of people have died making the journey
The previous government reintroduced offshore processing in Nauru and Papua New Guinea (PNG). Any asylum seekers found to be refugees will be resettled in PNG, not Australia
The new government has toughened policy further, putting the military in charge of asylum operations and towing boats back to Indonesia
Rights groups and the United Nations have voiced serious concerns about the policies. Australia says no new asylum boats have arrived for 200 days
Australia asylum: Why is it controversial?
---
The migrants said they had wanted to go to New Zealand but ran out of diesel, food and water.
Although they had sought asylum, those who spoke gave economic reasons such as job-seeking for their attempts to migrate, reports the BBC's Charles Haviland in Sri Lanka.
The Australian government says, of the 41 people returned, only four were Tamils and only one person, a Sinhalese, was recommended for further assessment but chose to return to Sri Lanka.
But in a statement, the United Nations human rights office said it was "deeply disturbed" by Australia's actions.
Screening asylum claims was "not something that can or should be done hurriedly, remotely and on high seas", said Ravina Shamdasana, spokesperson for the UN High Commissioner for Human Rights (OHCHR).
"It is unclear whether the Australian government has been given any assurances that the returnees will not face ill treatment upon their return to Sri Lanka, nor is it clear how the Australian government plans to monitor their treatment," she said.
Australia has said that it will give 72 hours notice before it hands over the second group currently being held at sea to Sri Lanka. The Australian High Court is to continue considering the case on Friday.