Afghan election: US Senator Carl Levin makes audit call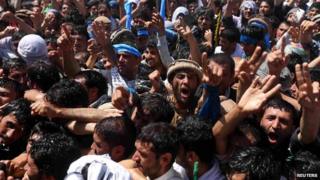 A senior US senator says he expects the Afghan Election Commission to conduct a "comprehensive audit" of polls cast in the presidential run-off.
The appeal was made by the visiting Senator Carl Levin ahead of preliminary results being announced on Monday.
It comes amid concern that fraud allegations during last month's vote are not being taken seriously.
Both presidential candidates Abdullah Abdullah and Ashraf Ghani have made allegations of foul play.
However Mr Abdullah has warned that he will not accept the preliminary result unless what he called "unclean votes" were eliminated.
Inflated turnout figures
The BBC's Karen Allen in Kabul says that Mr Levin's intervention appears to appease both sides in the contested presidential race.
He called for the promises made by the election authorities behind closed doors to be translated into action. The senator said that both candidates had agreed to an audit.
Our correspondent says that his audit call comes amid complaints from several quarters that fraud allegations are not being taken seriously.
Just under 2,000 out of a total of more than 20,000 polling stations where there are complaints have been investigated.
Afghanistan is under pressure to deliver a credible election in order to continue receiving foreign aid and avert a political crisis in a country where historically disputes have been fought along ethnic lines, our correspondent says.
The election is the first time that power in Afghanistan has been democratically transferred.
Mr Abdullah won 45% of the first-round vote, with Mr Ghani securing 31.6% - neither achieved the 50% needed to avoid a second round.
As most foreign soldiers prepare to withdraw by the end of this year, the next president will face multiple challenges.
Taliban insurgents remain active, the economy is weak, corruption is endemic and the rule of law goes largely unenforced.