Tony Abbott criticised for "unsettled" Australia remark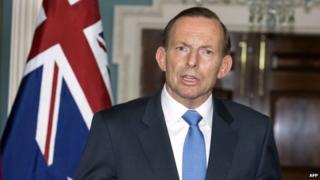 Australia's Prime Minister Tony Abbott has been criticised for saying that Australia was "unsettled" before the British arrived.
He said on Thursday night that Australia owes its existence to the British, as it was previously "unsettled or scarcely settled".
He was answering a question on foreign investment at a Melbourne conference.
An indigenous leader said the comments were offensive and his chief indigenous adviser called them "silly".
Mr Abbott was talking about the importance of foreign investment to Australia when he said: "I guess our country owes its existence to a form of foreign investment by the British government in the then unsettled, or scarcely settled, Great South Land."
Mr Warren Mundine, chairman of the prime minister's indigenous advisory council, said it was "a silly thing to say."
He told the Sydney Morning Herald: "I just thought it was a bizarre comment."
'Occupation'
Aboriginal opposition senator Nova Peris told local media that Mr Abbott's comments were "highly offensive, dismissive of indigenous peoples and simply incorrect".
She said British settlement was not foreign investment, but "occupation".
However, Tony Wright, national affairs editor for The Age newspaper, argued that Mr Abbott's comment was "factually correct in law".
Mr Wright pointed out that the High Court had ruled in a 1992 case that the settlement of Australia refers to the arrival of Europeans, adding that Mr Abbott's problem was that by using the word "unsettled", he "made it possible for his critics to assume he meant uninhabitated [sic]."
Mr Abbott is no stranger to controversy. He sparked a national furore in May when he winked and smiled during a radio chat with a caller who was upset about his budget proposals.
He has also been accused of making sexist remarks in the past. In 2012 former prime minister Julia Gillard called him a misogynist - a label he has strongly rejected.