Pakistan troops disrupted Waziristan terror bases - army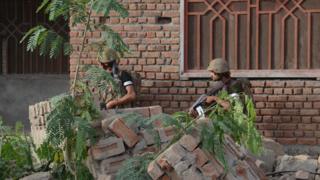 Pakistan's army says it has severely disrupted militant bases in the North Waziristan tribal region.
A spokesman said a huge bomb-making factory was found in Miranshah town.
A ground offensive began on Monday after two weeks of air strikes which the army says killed 370 militants. There is no confirmation of the figure.
The main target are the Pakistani Taliban, who have killed thousands in recent years but reports say many militants left before troops arrived.
At a media briefing, an army spokesman said they were targeting what he called terrorists of all hues and colour.
But according to reports, many militants were able to escape, either to adjacent tribal areas or to neighbouring Afghanistan - among them members of the Haqqani group who have been blamed for many high-profile attacks there, allegedly with Pakistani sponsorship.
Pressed on whether this included the Haqqanis, an official said the goal of the operation was to stop any terrorist group from using Pakistani soil.
Some say the army is still protecting certain militant groups who are believed to have carried out attacks in Afghanistan, reports the BBC's Andrew North in Islamabad.
North Waziristan has been a sanctuary for militants and many people inside and outside Pakistan believe the military should have begun the operation a long time ago, our correspondent says.
The assault comes three weeks after militants attacked Pakistan's largest airport in Karachi, leaving more than 30 people dead.