Unesco rules Tasmania forest to remain protected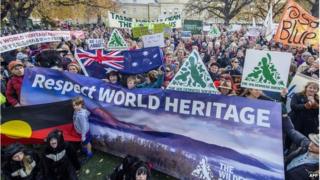 A Unesco committee has rejected a request by the Australian government to revoke the World Heritage Site status of part of the Tasmanian forest.
The Australian government wanted to unlock 74,000 hectares for timber, arguing the area is already degraded.
But the World Heritage Committee said revoking the status would set an unacceptable precedent.
Environmentalists have hailed the decision, while the Australian government said it was disappointed.
The committee which met in Doha took just seven minutes to consider the request before rejecting it, reports the Sydney Morning Herald.
The Portuguese delegation reportedly said the justifications provided by the Australia government were "to say the least feeble".
"Accepting this de-listing today would be setting an unacceptable precedent impossible to deny in similar circumstances in the future," it said.
The Australian government argued that the section of the forest they were eyeing was already compromised, as it had been logged before.
Prime Minister Tony Abbott said he was disappointed with the decision and that the government's application was "self-evidently sensible". He said they would study the decision before making their next move.
Mr Abbott has championed the cause of the timber industry, which employs more than 66,000 people.
A joint statement by several Australian conservation groups and Tasmanian Aborigines said the committee had "delivered a strong rebuke" to the government.
They said that revoking the protected status of the forest would be "environmental vandalism".
Members of the opposition Greens party also cheered the decision. Leader Christine Milne, who is a senator for Tasmania, said on Twitter that Mr Abbott's bid "humiliates Australia on world stage".
The Tasmanian wilderness covers nearly 1.4 million hectares, or 20% of the state.
The government bid triggered protests in Tasmania attended by thousands of people earlier in June.
Last week Unesco delayed a decision on whether the Great Barrier Reef should be declared as endangered, and reminded Australia to submit an updated report on the reef's state of conservation by February 2015.
The government is planning to dump three million cubic tonnes of dredge sediment in the reef's national park to create one of the world's biggest coal ports.