Top Afghan election official quits over fraud claims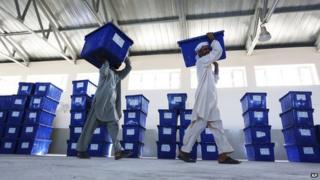 A senior Afghan election official at the centre of fraud claims in the presidential run-off vote has resigned.
Zia ul-Haq Amarkhail said he was stepping down "for the sake of national unity", denying allegations of ballot box-stuffing earlier this month.
His resignation comes after audio tapes were released allegedly revealing that Mr Amarkhail was trying to influence the outcome of the vote.
They were published by the camp of one of the candidates - Abdullah Abdullah.
However, his rival Ashraf Ghani has also made allegations of fraud.
The official results of the 14 June run-off are yet to be published.
'Stuffed sheep'
In a dramatic turn of events on Monday, Mr Amarkhail tendered his resignation on national television.
He vehemently denied any wrongdoing, saying he had been the victim of a plot.
He also described the tapes as "fake" and blamed the country's security services for interfering in the election.
In an apparent reference to ballot box-stuffing, the tapes appear to show Mr Amarkhail urging a colleague to "bring the sheep stuffed and not empty".
The reference to sheep and goats - ballot boxes and people or votes - is made several times during the recorded exchanges.
Reacting to the latest developments, Mr Abdullah said the resignation of Mr Amarkhail had opened the door for discussions with Afghanistan's Independent Election Commission.
Mr Abdullah also said his recent decision to stop co-operating with the election authorities had not been intended to disrupt the process, but to prevent a fraudulent election result and to protect people's votes.
The resignation could be a first step towards ending the deadlock which threatened to plunge the country into chaos, the BBC's Karen Allen in Kabul reports.
On Sunday, demonstrators from Mr Abdullah's camp were on the streets of Kabul, saying they wanted to "protect their vote" from fraud.
Both presidential contenders have lodged complaints about the conduct of the elections, and for Mr Abdullah - who felt he was robbed of the presidency back in 2009 - there is a sense that history is repeating itself, our correspondent says.