Afghan suicide attack targets top adviser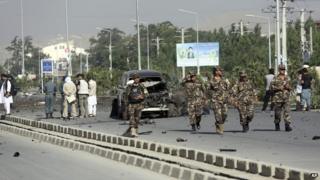 A suicide attack in Afghanistan targeting a senior government official has killed one civilian and injured several others in Kabul, police say.
But Mohammed Masoom Stanikzai, an adviser to the government body tasked with conducting peace talks with the Taliban, escaped unhurt.
No group has claimed responsibility for the attack, but Taliban militants have recently launched a series of attacks.
Meanwhile, three US soldiers were killed in southern Afghanistan.
The Nato-led Isaf force said the soldiers - and a military dog - died "following an improvised explosive device attack" on Friday.
Local Afghan officials were quoted as saying the explosion happened in the Nad Ali district of Helmand province.
'Very strong' blast
A suicide bomber detonated an explosives-laden vehicle near Mr Stanikzai's car early on Saturday, the police say.
But the government adviser was not hurt because he was travelling in an armoured car.
A police official was quoted by Associated Press as saying the blast was "very strong".
Police later cordoned off the area, launching an investigation.
The attack happened as several hundred protesters took to the streets of the Afghan capital and Kunduz province following last week's disputed presidential election.
Supporters of presidential candidate Abdullah Abdullah, they say the run-off poll last Saturday was conducted fraudulently and want the vote count stopped.
Dr Abdullah secured a clear lead in the first round in April but failed to garner enough votes to win an outright majority, forcing the run-off with Ashraf Ghani.
Dr Abdullah has suspended cooperation with the electoral authorities and called for UN intervention.
However, a representative of the UN mission in Kabul, Nicholas Haysom, said elections had winners and losers and everyone should be prepared to accept the result.
UN officials were working with both candidates, he said, and would "walk with Afghans down the difficult road of this political transition."
Official results are due to be released next month.