Kyrgyzstan happy to drop hot political potato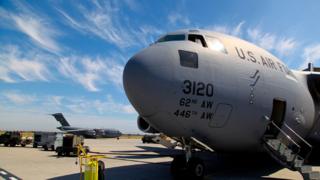 Next month the US lease on an air base in Kyrgyzstan will come to an end. Russia has pledged to give millions of dollars in credit and loans to the former Soviet republic, which may not be a coincidence.
For more than a decade, Manas air base was really an American island on Kyrgyz soil.
The tents, the dormitories, the vehicles - almost everything used came from the US. Even the electric sockets were designed for American plugs.
For journalists, Manas was a place offering exciting flights, with fantastic views from military cockpits.
My own first experience there was on a KC-135 plane, refuelling aircraft in the air over Afghanistan.
I lay in the back of this flying petrol station next to a boom operator, the airman controlling the arm that pumps fuel into the jet.
I watched, fascinated, as an F-15 fighter jet glided towards us. I could clearly see the pilot in its cockpit.
"You are uploaded. Disconnect," the boom operator's voice crackled in my headset, and the jet slowly manoeuvred away.
Troops
A few months ago I was back, to board a C-17 transport aircraft.
We left snowy Bishkek and 90 minutes later landed in sunny Mazar-e-Sharif.
That was the beauty of the Manas air base: it was so close to Afghanistan.
I watched men in sand-coloured camouflage drive four mine-resistant ambush-protected vehicles (MRAPs) into the plane and chain them up so they would not move around during the flight.
This cargo was unloaded in Bagram, and the C-17 filled up again, this time with American troops leaving Afghanistan.
I sat and watched those happy and cheerful faces, anxious to get home. Some were bobbing their heads to music on their headphones.
Others were hugging each other and taking selfies on their phones.
When they landed in Manas, they quickly disappeared into the tented area they called Hotel Alaska.
Those who did not want to rest could go out and play ping-pong or pool at Pete's Place.
Others watched movies or shot terrorists in video games.
Murky saga
Now the tents of the Hotel Alaska are gone. Pete's Place is closed.
The dining halls are almost empty. You don't see US Marines boarding buses with backpacks strapped around their chests.
No one here walks around with guns any more.
The politics of closing the base had been a murky saga. For years, Kyrgyzstan's government kept swinging back and forth.
In 2009 it decided to close down Manas, which coincided with an agreement that Russia would provide $2bn (£1.4bn) to Kyrgyzstan.
Shortly after this announcement, we were invited to interview the president then, Kurmanbek Bakiyev.
We were taken with a minder to his country residence in a black BMW with tinted windows.
Mr Bakiyev looked tense; his hands were trembling.
It was obvious he wanted to send an important message about the base.
But as it often happens in the East, he just could not say it openly.
"There are no ongoing negotiations… but the door is still not closed," he kept mumbling.
It turned out that Kyrgyzstan was simply trying to bargain up the rent that it charged the US.
In the end, a new agreement was reached, the rent went up, and the base was kept going - although it was renamed a "transit centre".
Soon Mr Bakiyev fled the country after an uprising.
The day after the new president, Almazbek Atambayev, was elected, the Manas issue was raised again in an interview.
Unlike Mr Bakiyev, Mr Atambayev looked cheerful and calm.
He simply said the base should be closed.
"What if there is a war between the US and Iran and in response Iran bombs Manas or Bishkek?" he asked.
Russia again made pledges to give millions of dollars in credit and loans. And this time, the decision to shut the base was not reversed.
The closing ceremony at Manas was all rather sullen.
There were gloomy faces, uninspiring speeches and cheerless applause. The interpreter kept stumbling and asking the US ambassador to repeat her words.
Col John Millard handed a symbolic key to a Kyrgyz official.
A forced smile in front of the cameras, a handshake and that was it.
Despite the speeches insisting "the US is not abandoning the region", it was clear this was the end of an era: the age of American military presence in Central Asia.
How to listen to From Our Own Correspondent:
BBC Radio 4: Saturdays at 11:30 and some Thursdays at 11:00
Listen online or download the podcast.
BBC World Service: Short editions Monday-Friday - see World Service programme schedule.