Indonesians missing after boat sinks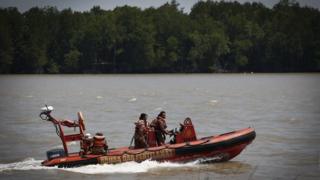 At least 32 Indonesian migrants workers remain missing after a boat capsized in waters off Malaysia.
Rescue officials said five people have died, and at least 60 people have survived.
The wooden vessel sank about midnight (16:00 Tuesday) off Port Klang, near Banting in the Strait of Malacca.
The passengers, who include women and children, were illegal migrants, according to a spokesperson for the Malaysian Maritime Enforcement Agency.
One rescue boat has gone to the area and two more are being deployed.
Authorities also said five sea vessels and a helicopter were searching for survivors.
"We plucked some of the survivors from the sea and others were found on land," said Malaysian Maritime Enforcement Agency spokesman Mohamad Hambali Yaakup.
Conflicting reports have emerged about the destination of the boat.
Maritime officials had initially said the passengers were believed to be trying to enter Malaysia.
Other officials said those on board were working in Malaysia illegally and were trying to return home for the Muslim holy month of Ramadan.
"From interviews with those rescued, they said they were returning to Aceh," said Mr Hambali, adding those who were rescued did not have any travel documents.
Another maritime official Muhammad Zuri told Reuters news agency that it was "an illegal boat" that was not authorised for ocean voyages.
Thousands of Indonesians work illegally in plantations and other industries in Malaysia. They often risk dangerous sea journeys to return home.