Let Burmese choose their leader, says US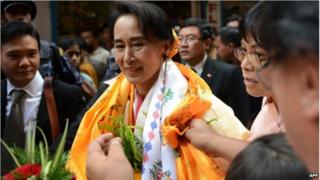 The United States has called on the Burmese government to allow citizens to "freely choose" their leaders.
The remarks follow a decision last week by a parliamentary committee that bars opposition leader Aung San Suu Kyi from standing for president.
Ms Suu Kyi has criticised the decision and has called for "fair elections".
The committee voted to retain a constitutional clause banning those with foreign partners or children from running for president.
Analysts say the clause was designed by the former military rulers specifically with Ms Suu Kyi in mind.
Her late husband and two children are British citizens.
The parliament in Myanmar, also known as Burma, must still vote on the ruling before it is final.
The state department said in a statement that the US was engaging with Myanmar on strengthening democratic processes, including constitutional reform.
Such reform "should pave the way for the Burmese to freely choose their president in a free and fair 2015 election", the statement said.
"Enabling the Burmese people to freely choose who they want to lead them during the critical next phase of transition will help to ensure stability in the country as the democratic transition continues," it added.
Ms Suu Kyi, who is pushing for the clause to be dropped, told reporters on Monday that she believed the constitutional clause targeted her.
"This is of course unacceptable democratically speaking that one person should be targeted by any particular constitution," she said.
Over the weekend, she called for "fair elections" with a "fair playing ground" to be held in Myanmar.
She also called on the international community to be "aware of the fact there are those who are trying to divert attention from genuine political needs".
Ms Suu Kyi spent much of the 1990s and 2000s in detention, but was released in 2010.