Afghan police kill militants accused of chopping voters' fingers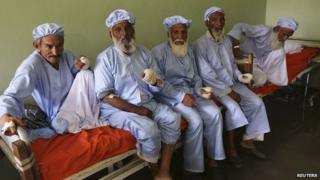 Afghan security forces say they have killed two Taliban insurgents accused of cutting off the ink-stained fingers of a group of elders who voted in Saturday's presidential election.
The elderly men were seized after voting in western Herat province, and then mutilated.
All voters must dip a finger into ink to register their ballot.
Although the Taliban vowed to disrupt the run-off poll, they say they had nothing to do with the incident.
Insurgent commander Mullah Shir Agha and one of his officers were killed after a combined police and military operation on Sunday, police said.
Another insurgent believed to have been involved in the recent violence was injured and is in police custody, they said.
The UN's special representative in Afghanistan, Jan Kubis, had condemned the attack on the elderly men saying: "By their vote, they already defeated those who promote terror and violence."
Fraud claims
Meanwhile, presidential candidate Abdullah Abdullah has claimed that Saturday's second round was plagued by fraud.
He questioned the impartiality of the independent electoral commission, claiming its turnout figure of seven million was vastly inflated.
He has called for the suspension of a senior member of the commission's staff.
Commission chairman Ahmad Yousuf Nuristani rejected the allegations and asked that his staff be left to continue their work.
Preliminary results are due to be announced on 2 July, with the final results coming on 22 July.
Campaign managers for the other presidential hopeful, Ashraf Ghani, say the apparently high turnout compared to the first round was the result of successful mobilisation.
A successful election is a key test of the international effort to develop Afghanistan since the fall of the Taliban regime in 2001.
Mr Abdullah believes fraud denied him victory in the 2009 presidential race, and has previously said that only widespread ballot-rigging could stop him from winning this time.
He told reporters on Monday he had "always asked supporters to show restraint" but that problems could turn into a "crisis".
Voting in Saturday's poll was described as relatively peaceful despite a series of Taliban attacks that officials said had killed more than 50 people.