Australia's Great Barrier Reef's health 'improving'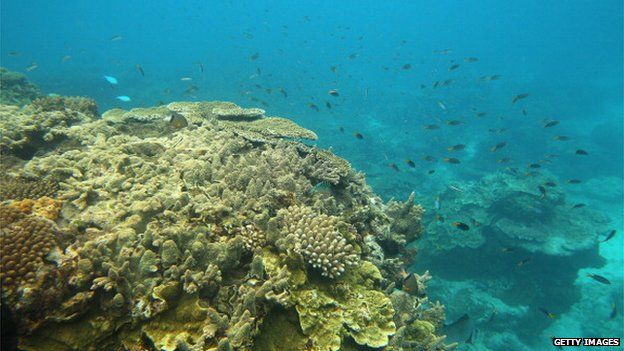 Pollution at the Great Barrier Reef has fallen significantly, Australia says, as it seeks to convince the UN cultural agency not to downgrade the site.
Unesco has threatened to list the World Heritage site as "in danger" because of "significant threats" to the reef.
On Thursday, Queensland's state government said it had cut pesticide and nitrogen loads in the area.
Critics say the dumping of dredged sediment still threatens the reef.
"The reef is now on the pathway to long-term improvement," Queensland Environment Minister Andrew Powell said.
Mr Powell was speaking as the government released a new report card on water quality at the reef.
Improved farming practices had helped reduce pesticide at the reef by 28% and nitrogen by 16%, Mr Powell said.
However, he added that the report suggested the health of the reef was still "poor".
"That is consistent with the fact we've had many decades now of natural disasters, but also agricultural practices and run-off."
Mr Powell will attend a Unesco meeting in Doha this week where he will argue against the reef being downgraded by the World Heritage Committee.
However, World Wildlife Fund (WWF) spokesman Sean Hoobin said the results "fall well short of what is needed to save the Great Barrier Reef".
"While the farming community has started to step up to the plate and address threats to the Great Barrier Reef, the resources industry are now set to undo that good work with destructive plans for dumping in the World Heritage Area," he said.
In January, the Great Barrier Reef Marine Park Authority approved a project to dump dredged sediment in the Great Barrier Reef marine park as part of a project to create one of the world's biggest coal ports.
Scientists have warned that the sediment could smother or poison coral.