Singapore casino bans shark fin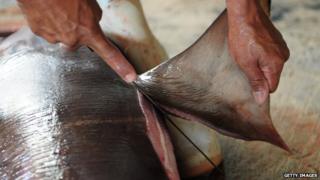 Singapore's Marina Bay Sands casino has banned shark fin, the latest in a series of boycotts in Asia.
The casino said shark-fin dishes would no longer be offered at official events or served at its restaurants.
Singapore is the world's second largest shark-fin trading territory after Hong Kong.
Campaigners welcomed the casino's ban, but warned that the trade in shark fin is now relocating to Indonesia, which export about 640,000 tonnes a year.
Jakarta said it was tightening regulations for the fishing of sharks and manta rays, which are considered endangered.
Hong Kong announced in September that it would stop serving shark fin at official functions and would also encourage government-funded bodies to do the same.
China followed suit, banning shark fin at official functions as part of a wide-ranging crackdown on excessive spending by government officials.
Although tasteless, shark fin is prized in soup and is often seen by many Asians as a status symbol.
It is most commonly served at Chinese wedding dinners.
The ban in Singapore follows other boycotts from large supermarkets and major hotels.
Anti-shark-fin campaigns have also prompted some five-star hotels in Hong Kong to remove shark fin from their menus, as well as from flagship airline Cathay Pacific.
Conservation groups hailed the latest move.
"Sharks are a crucial part of marine ecosystems and their populations have a direct impact on fish stocks," said Elaine Tan, Chief Executive Officer of the World Wildlife Fund Singapore.
"Marina Bay Sands is showing foresight and leadership and is providing a great example that the longevity and ongoing success of business is closely tied to safeguarding the biodiversity of our planet."