At the scene: 'Militants prepared for siege'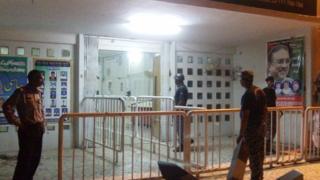 As the militants launched their attack on Sunday night, BBC Urdu's Riaz Sohail reported from the outskirts of the airport. He describes what he witnessed.
I was with police at the Fokker Gate where some of the militants initially entered - and a few hundred metres from the fighting. We spent five or six hours at the airport while the battle unfolded.
Witnesses told us the militants came in a high-roofed van, which dropped them at the entrance to this terminal and then quickly left.
We were told several militants jumped into the buildings and shortly afterwards a very heavy deployment of the Pakistani army reached there and firing began.
'Took refuge'
We listened and took cover while loud bomb blasts could be heard inside the compound. Officials told us it was suicide bombers detonating their vests. Later they discovered live suicide jackets from militants shot dead in the encounter.
The blasts were going on inside the compound and there are lots of deployments outside. After those blasts, the firing started and no-one could assess exactly where it was coming from.
We took refuge with other officials. There were security forces there from the police, airport security forces, paramilitary rangers.
But it was difficult and dangerous in that everybody suspected each other because there was a rumour that the militants were in airport security uniforms.
One police official told me that they initially assumed the firing was between two labour unions ahead of a controversial referendum expected soon - and that it was just a local conflict. It soon became clear this was not the case.
Supplies for long attack
Many recalled the last attack on this scale in the city, three years ago at the Mehran airbase. But there are important differences.
That area was not populated. Karachi airport is one of the country's biggest and busiest. Late at night international flights arrive and depart. There was great fear that the militants might reach the Jinnah passenger terminal and harm passengers and begin hijackings.
So security forces poured in from that side to push them further back into the other, unpopulated, terminal.
But I was told the militants were in two groups. One entered through the Fokker entrance, at the cargo terminal. We do not know where the others came from.
I was also told that their intention may well have been for a longer and deadlier siege as one official told me that the militants had brought dry food supplies with them.