Indonesia reporters eavesdropped on Australia's Abbott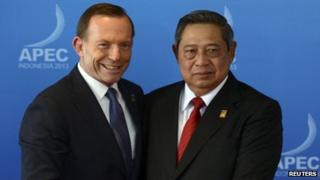 Indonesian President Susilo Bambang Yudhoyono allowed journalists to listen in to a conversation with Australian Prime Minister Tony Abbott.
Reporters were apparently in the same room as Mr Yudhoyono during the call and one of them recorded the exchange.
Indonesian officials said the whole incident was the result of a misunderstanding.
The two leaders will meet this week, with tensions still high over claims of Australian spying.
Last year Jakarta was outraged by allegations that Australia had bugged the phones of Mr Yudhoyono and other senior officials.
Indonesia withdrew its Canberra ambassador, only restoring full ties recently.
But Mr Abbott shrugged off the latest story, saying the important thing was the quality of the conversation.
"I've always emerged from my discussions with President Yudhoyono feeling uplifted and encouraged," he told ABC.
The two leaders are due to meet on Wednesday on the Indonesian island of Batam.
As well as the wiretapping scandal, they will also tackle the issue of asylum seekers, often from the Middle East or Afghanistan, travelling by boat from Indonesia to Australia.
Canberra has urged Jakarta to crack down on what it regards as a criminal problem of people trafficking.
Indonesia, however, has criticised Australia's treatment of asylum seekers.