Afghanistan bomber kills Turkish construction workers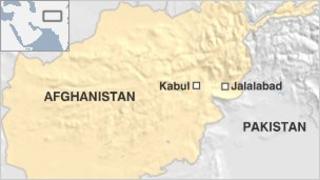 Three Turkish construction engineers have been killed by a suicide bomber in the eastern Afghan province of Nangarhar, officials say.
The attacker drove a motorbike packed with explosives into their minibus in the city of Jalalabad.
Later, three suicide attackers killed four people in an assault on a government office in Helmand province.
Three of those killed were security force members. Officials said all the attackers were shot dead.
The Taliban said they carried out that attack.
The Turkish engineers had been building a centre for police in Nangarhar province.
There was no immediate claim of responsibility for their killing but the Taliban will be the main suspects, as they have in the past targeted foreign workers in Afghanistan, correspondents say.
A fourth Turkish engineer working on the project in Behsud and at least three Afghan civilians were injured in the attack, officials say.
The city of Jalalabad has over the last two years been hit by numerous bombings.
In August 2013 12 women and two children were killed by a blast in a cemetery. That was shortly after a massive explosion at the Indian consulate in the city in which nine people were killed.
Taliban militants have stepped up attacks ahead of the planned withdrawal of most foreign troops from Afghanistan at the end of 2014.