Indian aid worker kidnapped in Afghanistan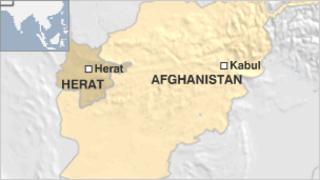 An Indian aid worker has been kidnapped in the Afghan city of Herat, Indian and Afghan officials say.
The 47-year-old man was visiting a school when a group of unknown gunmen kidnapped him on Monday afternoon.
India's foreign ministry spokesperson Syed Akbaruddin said the consulate in Herat was trying to get more information.
The incident comes just 10 days after the consulate was attacked by gunmen armed with machine guns and grenades.
At least four attackers were killed in the firefight with security forces that lasted several hours.
Herat lies near Afghanistan's border with Iran and is considered one of the safer cities in the country.
"An Indian national working with an NGO (non-governmental organisation) in Herat province of Afghanistan has been kidnapped. Our mission is pursuing the matter with local authorities," Mr Akbaruddin tweeted.
Media reports have identified the aid worker as Prem Kumar, country director of Jesuit Refugee Service.
The charity said he was abducted while visiting a school in Sohadat village of Herat, news agency AFP reported.
"He was abducted as he was about to return," the agency quoted James Stapleton, the international communications coordinator of the Catholic organisation, as saying.
It said Mr Kumar had been working in Afghanistan for the past four years.