Second diver dies in South Korea ferry search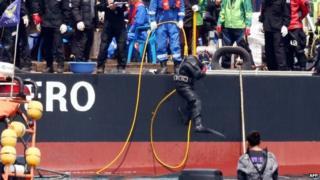 A South Korean diver has died during the search for bodies inside a submerged ferry which sank in April with 476 people on board.
The 46-year-old man is the second diver to be killed in the operation to retrieve hundreds of bodies from the Sewol ferry.
So far the disaster has claimed 288 lives, with 16 others still missing.
Divers have had to battle strong currents and near-zero visibility to get inside the sunken vessel.
But no bodies have been retrieved since 21 May, as furniture and other heavy objects have made it difficult for divers to navigate through parts of the ship.
'Unbearable pain'
The diver who died had been involved in efforts to cut a new access hole into the submerged ferry.
Fellow divers pulled the man to the surface, unconscious and bleeding, a government task force spokesman said.
The man was later pronounced dead in hospital.
Earlier this month another civilian diver died after becoming unconscious during a search attempt.
The families of the 16 people who are still missing expressed "unbearable pain" on Friday at not finding their loved ones, according to Reuters news agency.
"It's 45 days since the disaster and the ninth day in a row without any victims being recovered," said Bae Eui-cheol, who spoke on behalf of the grieving families.
Surviving crew members, including the captain, have been arrested and face charges of gross negligence.
Video footage shows some of them abandoning the vessel while the passengers were still on board.