Philippine storm: Six Typhoon Haiyan survivors die in tent fire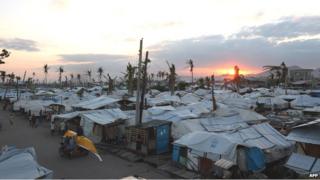 A mother and five of her children who survived Typhoon Haiyan have died after their tent caught on fire.
A sixth child is in critical condition and authorities are looking for the father, report local media.
The family had been staying in a temporary camp in Tacloban, one of the worst-hit areas.
The incident highlights the slow progress of recovery since Haiyan swept through in November, killing more than 6,000 people.
Agencies report that the fire was caused by a kerosene lamp, and happened after midnight on Tuesday as the family was sleeping.
Their tent was among 40 in a "tent city" housing people who had been displaced by the typhoon.
A Tacloban disaster management officer was quoted by agencies as saying that these canvas tents, donated by the United Nations, pose a fire hazard.
"The problem is that so many people are still living in tents and we have been saying all along that these tents are fire hazards,'' said Derrick Anido. "And we have been requesting (the national government) to relocate them to safer shelters."
Official estimates as of 3 April put Haiyan's death toll at 6,293, with another 28,689 injured and 1,061 missing.
About four million people were displaced, and 1.14 million houses damaged.
Some areas still have limited power and water supply, according to the Philippines' National Disaster Risk Reduction and Management Council.