South Korean police step up their hunt for ferry owner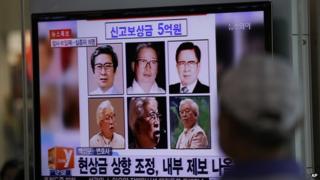 South Korea is stepping up its hunt for the owner of the ferry company whose vessel the Sewol sank last month.
Prosecutors are offering a reward of $500,000 for information leading to the arrest of Yoo Byung-eun.
Police also arrested four members of a religious sect led by the businessman on suspicion of helping the fugitive.
Mr Yoo faces allegations of tax evasion, embezzlement and negligence following the sinking of the ferry with the loss of some 300 lives.
Police raided a compound of his sect, the Evangelical Baptist Church, last Wednesday, but found no trace of him.
Through a series of complex cross-holdings, Yoo Byung-eun is believed to own the Chonghaejin Marine company that ran the sunken ferry.
He faces allegations of involvement in the overloading of the ferry, and major adjustments to its structure, that are thought to have contributed to the disaster on 16 April.
The Sewol remains submerged off the south-west coast of Korea. Most of the 300 people who lost their lives were pupils from the same high school near Seoul.
Police increased the reward for Mr Yoo's arrest ten-fold on Monday after increasing the bounty for his eldest son to $100,000.
Five employees of Chonghaejin were also indicted for professional negligence.
Yoo Byung-eun is a mysterious figure, who is rarely photographed.
In addition to being a wealthy businessman, martial artist and founder of a religious sect, he is an acclaimed nature photographer.
Hundreds of the church's supporters protested outside the prosecutors' office on Sunday to denounce what they called harassment and persecution.