Australia asylum: Report sets out fatal beating in PNG camp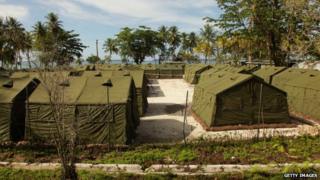 The Iranian man who died in an outbreak of violence at an Australian asylum detention camp in Papua New Guinea was brutally beaten and had a "large stone" dropped on his head.
The details of Reza Barati's death were set out in an official report on February's violence released on Monday.
Dozens of other asylum seekers were also injured in the clashes.
The report said that tensions at the Manus Island processing centre had been mounting for weeks before the protests.
Security provider G4S Australia had noted in daily reports that there was heightened tension, saying some detainees had prepared weapons.
The violence took place between 16 February and the early hours of 18 February, and was sparked by a meeting at the camp.
The report says detainees were frustrated at the delay in processing their applications for refugee status and a lack of information.
Many were angry that if they were granted refugee status, they would be resettled in PNG, instead of Australia, a decision that was announced in July 2013.
Racial tensions had also been building between some detainees and G4S guards, about half of whom were from PNG. The report notes that some detainees had insulted guards, calling them names such as "cannibals".
On 16 February, between 30 and 35 detainees escaped - all were recaptured and one had his throat slashed by a guard, but survived.
The following day tensions escalated, culminating in a "major disruption" that security staff could not control. About a third of the 1,340 detainees began protesting, lobbing missiles and rocks at guards.
A mobile squad of the PNG police, described in the report as a "paramilitary-style elite police unit which was heavily armed", then moved in.
Though this squad was not supposed to deal with protests inside the camp, they pushed over a fence and entered the compound, which allowed other local people to enter and participate in the violence, according to the report.
'Serious violent acts'
An eyewitness said that Mr Barati was on his way back to his room when a PNG national working for the Salvation Army struck him with a stick.
Mr Barati was then beaten up by more than 10 people, comprising PNG and Australian G4S guards, and locals who had entered the centre. The eyewitness said one of the latter "put a very big stone" on Mr Barati's head.
Others sustained serious injuries. One detainee lost his right eye and another was shot in the buttocks.
"There would have been no incident that night had there been no protests, I think that is clear to say," said Immigration Minister Scott Morrison.
"But the protests in no way could ever justify what happened to Mr Barati or the other serious violent acts perpetrated on that night."
The report said it was not possible to isolate one factor which, if handled differently, would have resulted in fewer injuries, or to apportion blame for the incidents directly to one or more of the parties involved.
"It could be argued that, if the mobile squad had remained outside the centre, then the transferees would not have been assaulted by the PNG nationals and some expats who entered... with the police when they breached the fence," it said.
But that conclusion required speculation on how events would have unfolded if the detainee protest had gone unchecked, it added.
The best way to reduce the chance of violence erupting again was to address the underlying causes of tension at the facility and to improve physical security for the detainees, it said.
The review was conducted by former public servant Robert Cornall.