Australia PM Tony Abbott says his wink was 'a mistake'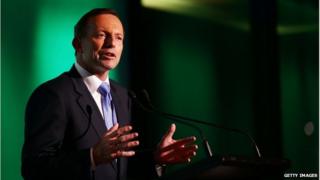 Australian Prime Minister Tony Abbott has said that it was "regrettable" that he winked and smiled during a chat with a distressed voter.
The gaffe, which drew intense criticism, comes as Mr Abbott battles fury from some voters over his latest budget.
Many see proposals to cut health and education spending as Mr Abbott backtracking on election promises.
Hundreds have staged protests in Australian cities against the budget.
Mr Abbott had appeared on a Australian Broadcasting Corporation radio show on Wednesday to defend his proposals.
A woman who identified herself as "Gloria" called in, saying she was a chronically ill 67-year-old grandmother and that she would have to pay more for medical treatment under the new budget.
Mr Abbott winks and grins when the woman says: "I work on an adult sex line to make ends meet, now that's the only way I can do it."
He then appears to control himself by pursing his lips, glances at the video camera filming him in the studio, then puts on a serious expression.
Clips of the incident were later circulated online and on national media, prompting criticism that Mr Abbott was sexist and lacked empathy for voters.
He told Australia's Channel Nine on Thursday morning that it was a mistake.
"I shouldn't have done it... I should've been more focused on the caller and less focused on the interviewer,'' he said.
He was attempting to engage with the caller and was "momentarily distracted" by the radio show whom he said was "smiling at me and I winked back at him".
"Mistakes are always regrettable... and I will do my best having made a mistake yesterday to make none today," he said.
On Wednesday he told another radio station that he was reacting to "an interesting call from someone who had an interesting story".
Meanwhile "Gloria" contacted the radio show again on Thursday and said Mr Abbott's actions were "sleazy, slimy".
It is not the first time Mr Abbott has been accused of insensitivity towards women. He was accused of being a misogynist by former prime minister Julia Gillard in 2012 - a label he has strongly rejected.