China sends pandas to Malaysia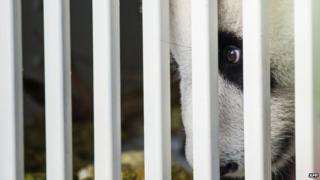 Two pandas from China have arrived in Malaysia as Beijing looks to build ties amid regional tensions.
The eight-year-old pandas will be housed in a 1.6 hectare air-conditioned complex at the national zoo.
China agreed to loan them to Malaysia to mark 40 years of diplomatic ties this year.
But Beijing postponed their delivery because of disagreements over the Malaysian authorities' handling of the disappearance of flight MH370.
Most of the passengers on board the Malaysia Airlines plane were Chinese, and their relatives have accused the authorities of mishandling the search for the plane.
Beijing's loan comes, however, as it looks to build allies in the region amid growing anti-China sentiment in South East Asia caused by territorial rows over the South China Sea.
China has often used "panda diplomacy" to strengthen ties, and has sent pandas to the United States, Singapore and Japan in the past.
Recent moves by Beijing to assert its claims in the South China Sea have angered its neighbours.
China's placement of an oil drilling rig in waters also claimed by Vietnam sparked anti-China protests that left at least two dead and several factories burnt down.
The Philippines has decried China's alleged move to build an airstrip on a disputed reef and is taking China to an international court over its South China Sea claims.
Earlier this month thousands of American and Filipino troops conducted a military exercise following a visit to the Philippines by US President Barack Obama.
Malaysia has openly supported the United States' naval build-up in Asia, which is seen as an effort to contain China, reports the BBC's Jennifer Pak in Kuala Lumpur.
Malaysians have also grown tired of criticism from the families of Chinese passengers missing on Flight MH370, our correspondent adds.
But the pandas, called Fuwa and Fengyi which means "lucky child" and "phoenix" in Mandarin, are being seen as a peace offering.
Local media has expressed excitement, with by-the-minute coverage of their arrival and exuberant headlines such as "Panda-monium erupts, they are here!"
Local authorities said the pandas will be quarantined for a month before the public can view them.