Bitter divisions emerge within Pakistan's TV regulator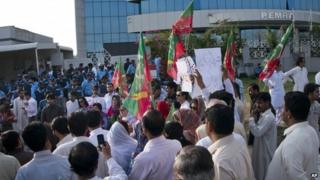 Bitter divisions have emerged within Pakistan's Electronic Media Regulatory Authority (Pemra) over moves to take the country's largest and most influential TV station off the air.
Five of Pemra's 12-member apex committee announced on Tuesday that they had agreed to suspend the licence of Geo TV.
But hours later other members of Pemra said that they "disowned" the decision.
Geo TV is embroiled in a defamation row with Pakistan's intelligence service.
Dangerous for journalists
Pakistan's ISI intelligence service accused the channel of defaming it when one of its talk-show hosts was attacked in Karachi last month.
In a complaint forwarded to Pemra through the defence ministry, it said Geo accused both ISI and its head, Gen Zaheerul Islam, of being responsible for the 21 April attack on presenter Hamid Mir.
He was hit six times in the abdomen and legs after his car was fired on by men on motorbikes as he was leaving Karachi airport. Mr Mir is now recovering in hospital.
It remains unclear who fired the shots and no group has said it carried out the attack.
Pakistan is one of the word's most dangerous countries for journalists.
The complainants said that no evidence had been produced to substantiate Geo's allegations against the ISI.
The channel's management later admitted it might have "overdone" the coverage, but defended its position by saying it had only carried the version given by Mr Mir's family, who suspect ISI involvement.
'No legal standing'
The BBC's M Ilyas Khan in Islamabad says that the controversy has divided the media and created tensions between the civilian government and the military.
The allegations against the intelligence agency are unusual because few dare upset the ISI - long regarded as one of the most powerful institutions in the country.
The government has constituted a separate judicial commission to investigate the attack on Mr Mir.
Those Pemra members opposed to suspending Geo's license argued that the move "had no legal standing" because only five members of the 12-person board supported it.
Our correspondent says that the dispute between rival factions within Pemra is next likely to be discussed when the group's committee meets on 28 May.
Five journalists were killed in Pakistan in 2013 and more than 50 have died since the early 1990s. Most murders remain unresolved.