Syrian exams bring Yarmouk students siege respite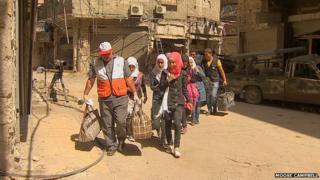 In a shattered space where even basics like bread and medicine are missing, one of life's most normal routines has finally been allowed.
At the 11th hour, safe passage was agreed to enable 120 teenagers to leave the besieged Palestinian camp of Yarmouk, in southern Damascus, to sit their exams.
On the eve of Syria's nationwide tests, they emerged from the ghostly warren of streets haunted by blackened shells of buildings shot through with mournful gaping holes. On the students' final stretch, aid workers hastened toward them, helping to carry bulky bags and backpacks.
"I've lost already two years because I didn't take my exams. Now I want to take these tests and make huge progress in my life," declared Muhanned, a determined 17-year-old who is already growing a moustache as he struggles to finish his education.
There have been changes to the main passageway to the end of the camp that gained global notoriety when an iconic photograph taken by the UN showed an apocalyptic image of desperation and destruction.
Rama Street, a tunnel of ruins, is now bisected by sandbagged walls and sniper shields in a sprawling military position at the northern entrance to the camp on the edge of Damascus.
When we last entered Yarmouk in late February, this long corridor was flooded by distraught families anxious to receive the UN food parcels being distributed that day.
This time, only hours before students started arriving, we heard sporadic gunfire and reports that talks to ensure safe passage were still continuing between the warring sides. They included Jabhat al-Nusra, one of the main rebel groups inside Yarmouk, Syrian soldiers, and one of the largest Palestinian factions known as the PFLP-GC. In the messy military geography of this war, Yarmouk is one of the most complicated battlegrounds of all.
But once the students emerged, the sweetest of sentiments took centre stage.
Teenagers ran into the arms of anxious relatives waiting outside a tight security cordon formed by soldiers blocking the mouth of the camp.
"I haven't seen my daughter in 10 months," beamed Khaled, a father with a jaunty black hat and the biggest of smiles as he embraced young Rania.
"I am so happy I could spread my happiness all around the world," he exclaimed.
Buses provided by UNRWA, the UN's agency for Palestinian refugees, were packed with students and fizzing with excitement and emotion.
Students peered out the windows, trying to identify streets they hadn't seen for many months. Mobile phones were ringing as they called parents they were leaving behind during the next two weeks of tests.
There were more tearful reunions when the buses pulled up to two schools, one run by UNRWA, another a state school, now used as shelters.
"I haven't seen my niece for a year and a half," said one woman holding her young relative close to her. "I'm not going to let her go back in."
"Wow. It is so emotional to see all these smiles and all this hope," remarked Abdallah al Laham, UNRWA's Deputy Director in Syria, who couldn't wipe the smile off his own face.
"We are hoping Yarmouk will be open," he added. "It's not to get a permission to leave but to have a small movement of people in and out so that they can feel they have a choice to leave."
"You can't understand a siege until you live there," Muhanned told me. "We had to eat food no-one can eat - grass, spices with water, if we found water."
"We were eating stuff the cows wouldn't eat," chimed in 16-year-old Mohammad, a gaunt boy with sad piercing eyes and a heart-wrenching story.
"I was outside the house and when I came home I found a rocket had landed," he told me as we sat in the corridor of an UNRWA school with its trademark powder blue walls.
"My mother and my two sisters were killed. My other two sisters are injured."
Then, pausing, he added: "It's not a life but we say, thank God."
It's a life lived on the very edge.
"Every day we went to school we put our hand on our heart because so many people have died," confided 15-year-old Khaled who draped himself across a school desk with the confident pose of a little street fighter and the gaze of a vulnerable child.
"Of course we were scared but we had to continue. If we lose our future no-one can help us."
No sooner did they settle into the shelter, than they went into revision classes.
It's hard to imagine how they can possibly be ready for these tests.
Some of the students expressed regret that teaching, when it happened inside Yarmouk, was no longer at a very good level. But a number of them commended their teachers for their efforts.
"I studied by sunlight in the day, and candles by night," Khaled explained, but then he admitted: "When you can't find food, it's hard to make your brain work."
Small quantities of some food being smuggled into Yarmouk are available at steep cost.
UNRWA continues to press for more sustained distribution but their operations are constantly halted, for days on end, by violence.
UN food parcels have made a difference but are still said to cover only a quarter of the food needs of an estimated 18,000 residents, who include some Syrians among the Palestinian refugees.
A recent report by Amnesty International put the number of deaths from starvation and illnesses at nearly 200 since the siege came into force last July.
As the students came out, it was al Wafa - a Syrian NGO linked to the Syria Trust for Development set up by President Bashar al-Assad's wife Asma al-Assad - which was distributing supplies to queues of visibly weak and tired residents, some in tears.
There are reports that the government's nearly year-long siege of Yarmouk may soon be eased.
To truly end this suffering, it will take the agreement of all warring parties to a conflict that has exacted an unbearably heavy human cost.
"We all calling on all parties to allow a bigger humanitarian space," said UNRWA's Abdallah al Laham, as students milling around the entrance to the school savoured the small but special space they won this week.