Myanmar villagers free abducted Chinese mine workers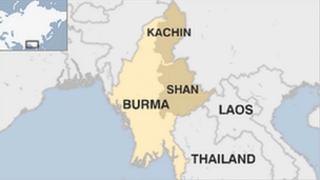 Villagers in Myanmar have released two Chinese workers they had taken hostage near a controversial copper mine.
The two men were kidnapped on Sunday as they were surveying near the Letpadaung mine, which has been the scene of violent confrontations in the past.
Many villagers say they have been forced off their land.
The mine is a joint venture between a Chinese firm and the army in Myanmar, also known as Burma, and has become a focal point for public demonstrations.
A statement from the Wanbao Mining Company said the men work for a sub-contractor.
"Wanbao vehemently condemns this unprovoked attack on our colleagues," the company said in a statement before the men were freed.
The activists are said to be from the Student Network of Mandalay group, AFP news agency said, citing the company statement.
The two Chinese men were apparently beaten and threats were made to kill them if work on the copper mine was not halted.
A Burmese colleague who was also taken with them was later released.
There was an attempt on Sunday night to free the two Chinese men, several sources told the BBC.
Tear gas was reportedly fired in the village before police pulled back.
Many of the local villagers claim they were forced to give up their land to make way for the mining project.