South Korea ferry relatives stage protest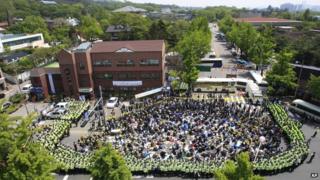 Relatives of passengers aboard a ferry that sank last month have tried to make their way to South Korea's presidential office to demand a meeting.
Police blocked the group, including parents of students who were among the more than 300 people who died, before they could reach the office.
A few members were eventually allowed to speak with senior officials.
The ferry, carrying 476 people, was sailing from Incheon to Jeju Island when it sank on 16 April.
Only 172 people were rescued, with many others trapped inside the ship as it went down. Most of those who died were students from a high school near Seoul.
Reports say hundreds of police, some in riot gear, were in the vicinity of the presidential office, also known as the Blue House, in Seoul.
The group wanted to have an audience with South Korean President Park Geun-hye, but were unsuccessful.
They ended up sitting on adjacent streets instead before peacefully dispersing, AFP news agency said.
The demonstration began late on Thursday outside a state-funded TV network, following remarks by a senior editor that were deemed inappropriate.
The network's president later came out to apologise to those assembled.
The group are seeking an explanation for what they believe were delays in the initial rescue effort and punishment for those who are found responsible.
Ms Park has already apologised over the disaster, acknowledging that the first response was insufficient.
Investigators believe that on the day it sank, the ferry was carrying more than three times the amount of cargo it was authorised to transport.
Prosecutors have already detained 15 crew members, including the captain, for failing to help passengers off the ship.