South Korea ferry company chief detained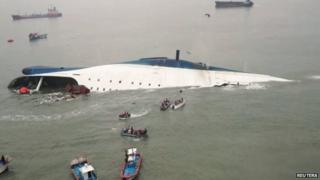 Prosecutors in South Korea have detained the head of a company that owned the ferry that sank last month with the loss of more than 300 lives.
Chief executive of Chonghaejin Marine Kim Han-sik, 72, was taken into custody from his home on Thursday morning.
Prosecutors said he faced possible charges including manslaughter and breaking maritime law.
Investigators believe the ferry was overloaded with cargo, which could have contributed to the boat capsizing.
"I apologise to the victims and the families," Mr Kim told media after his arrest, but did not respond to questions.
National shock
The ferry, carrying 476 people, was sailing from Incheon to Jeju Island when it sank on 16 April.
Only 172 people were rescued, with many others trapped inside the ship as it went down.
Most of the victims were students from a high school near Seoul who were on a trip to Jeju Island.
Investigators believe that on the day it sank, the ferry was carrying more than three times the amount of cargo it was authorised to transport.
Prosecutors have already arrested the captain, believed to be one of those who was rescued first, and 14 crew members for failing to help passengers off the ship.
Lee Joon-seok, 69, was not at the helm when the ship listed. Instead, the vessel was being steered by a third mate.
The tragedy has caused widespread shock in South Korea, as well as criticism of the government response and a backlash over possible regulatory failure.
South Korean Prime Minister Chung Hong-won has resigned amid criticism of the government's handling of the incident.
On Wednesday, the coastguard revised down the number of survivors, saying that only 172 people were rescued instead of the previously announced figure of 174.
South Korean President Park Geun-hye has already apologised over the incident, acknowledging that the first response was insufficient.