Pakistan to immunise people going abroad against polio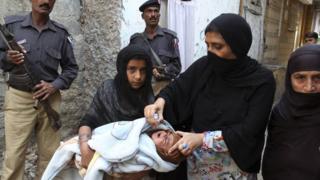 The Pakistani government says it will set up mandatory immunisation points at airports and border crossings to help stop its polio outbreak from spreading.
It comes after a World Health Organisation warning that polio has re-emerged as a public health emergency.
Pakistan has seen a rise in the disease, with immunisation campaigns often disrupted by Taliban militants.
The virus currently affects 10 countries worldwide, and is endemic in three countries, including Pakistan.
Polio mainly affects children under five years old.
Special measures
The virus is transmitted through contaminated food and water, and multiplies in the intestine. It can then invade the nervous system, causing paralysis in one in every 200 infections. It is capable of causing death within hours.
"Special measures will include establishing mandatory immunisation counters on all airports, border crossings and seaports for all travellers," Pakistani government spokesman Sajid Ali Shah said.
Officials say details of the campaign and how it would be implemented have yet to be worked out.
The BBC's Kim Ghattas in Islamabad says the Pakistani government gave no advance warning to the business community and seems to have done little to prepare for the logistics of administering the vaccine to travellers.
Pakistan, Cameroon and Syria were identified by the WHO as the countries posing the greatest risk of exporting the virus.
In its recommendation, the WHO said that all residents of Pakistan or long-term visitors should get a dose of the vaccine at least four weeks before international travel.
In case of urgent travel, it says, the vaccine should still be given just before departure.
But senior health official Saira Afzal Tarar told AFP that the health body's recommendations would make life harder for ordinary Pakistanis.
"By recommending travel restrictions on Pakistan, the WHO has strengthened those forces who actually banned polio drops," she said.
Attacks on vaccination campaigns in Pakistan by militants - who see them as a cover for spying - have allowed the virus to spread across its borders.
The WHO recorded 91 cases of polio last year, up from 58 in 2012.