Thailand opposition urges delay to elections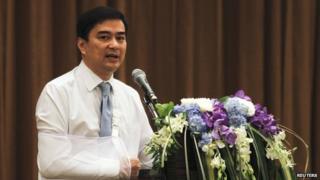 The leader of Thailand's opposition has called for elections scheduled for July to be pushed back by up to six months.
In a 10-point package of proposals, Abhisit Vejjajiva said the prime minister and her government should resign, allowing an interim cabinet to oversee a referendum on reforms.
A government minister has rejected the proposals as unconstitutional.
Thailand has been in political deadlock since anti-government protests began in Bangkok in November 2013.
Ms Yingluck's government announced the 20 July polls after a previous snap election in February was declared unconstitutional.
The ruling Pheu Thai party had been expected to win the February vote. However, the opposition boycotted the polls and protesters disrupted voting.
At the height of the anti-government demonstrations, protesters shut down key road junctions and blockaded government ministries. Their number has since declined.
'Breathing space'
On Saturday, Mr Abhisit said his opposition Democrat party would not contest July's polls.
"We need breathing space, we need a cooling down period before we go to elections, given the kind of violence that is happening around the country," he told the BBC.
"In my discussions with the Election Commission, with other political parties, none of them seriously believes that we can head into elections [in July] and get an outcome different from what happened earlier in the year," he added.
However, Education Minister Chaturon Chaiseng told the BBC Mr Abhisit's proposals were unconstitutional, and impossible for the government to accept.
The idea of appointing an unelected government would have the same effect as launching a military coup, he added.
Jarupong Ruangsuwan, leader of the ruling Pheu Thai party, also told Reuters the plan would "only increase divisions in Thai society".
The main proposals in the opposition's 10-point plan are:
July's planned elections are delayed. A reform council drafts a plan of reforms, which are sent for a national referendum
The current government resigns and a non-partisan interim government is appointed
Following the national referendum, new elections are held
The new elected government must carry out the reform plans. A fresh election will then be held within a year
Mr Abhisit acknowledged that he and his Democrat party were partly responsible for the political mess Thailand was in, and said he was offering a way out, the BBC's Jonathan Head in Bangkok reports.
Ms Yingluck faces a court verdict next week which could result in her being barred from politics for five years, a result her supporters say they would view as tantamount to a coup, our correspondent adds.
Ms Yingluck and Pheu Thai remain very popular in rural areas.
However, her opponents, who are mainly urban and middle class, allege that her brother, ousted leader Thaksin Shinawatra, controls her administration.
They also say that Thailand's democracy has been corrupted by money.