MH370: No closure for families just yet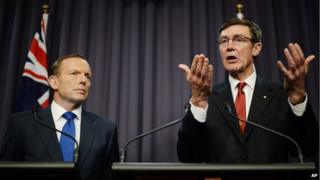 For the families of the 239 people who were on board the missing Malaysian airliner this latest news is another blow.
There will be no "closure". Not yet. The search is now in its eighth week. Today we were told the next phase will take more like eight months, if not longer.
For Australian Prime Minister Tony Abbott, it's also a set back. A few weeks ago he bullishly declared himself to be "very confident" that the Australian-led search operation was looking in the right place.
Today he said he was "baffled and disappointed" that the plane's black box had not been found.
Mr Abbott said there had been more than 330 search flights covering 4.5msq/km. I flew on two of them, once with the Australian Air Force and again with the Americans.
For the crews on board, it has been painstaking, exhausting and frustrating work. It's also been expensive. The captain on board the US P8 Orion I flew with told me each hour in the air cost around $4,000 (£2,380). Each flight lasted around 11 hours.
But despite the huge multinational effort, they've found nothing. And today Mr Abbott acknowledged it was very unlikely that they would now find any debris on the ocean surface, suggesting any possible debris would now have sunk.
It also begs the question whether the plane could somehow have gone down in one piece, or if the search teams have actually been looking in the right place.
And as the aerial search is suspended, the underwater operation is having to be massively extended.
The Australian Navy Ship ADV Ocean Shield has been using an autonomous underwater vehicle, the Bluefin-21, to try to scan the seabed. It had been focussing on an area roughly 300sq/km in size where pings or signals possibly from the plane's black box had been picked up.
But the trail has gone cold and the underwater search area will now be expanded to a vast 56,000sq/km. That's about 35 times the size of London. The Bluefin 21 only travels at around 5 km/h. Do the maths.
The man leading the search, Retired Air Chief Marshall Angus Houston, who's been cautious throughout, says the next phase of the operation could end up taking at least eight months.
The cost just for that phase is estimated at A$60mn ($56mn; £33m).
All of this adds up to something we already knew: This is arguably the most difficult search operation the world has ever seen.
Despite the cost, the hunt for MH370 goes on. Tony Abbott says he owes it to the families to continue. But success remains remote.