Match-fixer Wilson Raj Perumal arrested in Finland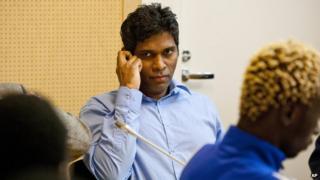 Convicted football match-fixer Wilson Raj Perumal is being held by Finnish police on an international arrest warrant, officials say.
The Singaporean has already served time in Finland for match-fixing.
After his release he was extradited to Hungary where he was believed to have been assisting police.
Perumal has admitted being a key part of a Singaporean-based syndicate which he said rigged matches both at club and international level.
Singaporean authorities confirmed on Thursday that they were making efforts to extradite Perumal.
Police said in a statement that they had been "notified of the developments in Finland" and were "currently working with the relevant authorities".
It is not clear to what the extradition request refers.
Finnish Detective Superintendent Jari Nieminen said that Perumal was arrested in Helsinki last week. It was not clear when he arrived in Finland.
Perumal was arrested and jailed in Finland in 2011 for fixing games.
On two occasions he is alleged to have organised for bogus African national teams to play and lose friendlies against international opponents, reports the BBC's Jonah Fisher.
In the three years since he was first arrested he has turned informant and provided detailed information on syndicates working out of Singapore using fixers in Europe and financial backers in China, our correspondent adds.
In September 2013 police in Singapore arrested 14 people said to be part of a crime gang involved in global football match-fixing, including the alleged leader.